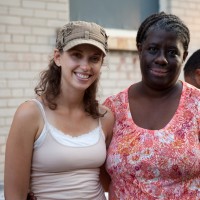 The Heart of Mission
by Melissa Stanton | January 2, 2013
In Matthew 6:15-18, Jesus dialogued with His disciples regarding a very important question, "Who do you say that I am?".

He wanted to know that, independently of what people were saying about Him, did His disciples have their own revelation of Who He was? Did they KNOW Him for themselves, and not for what men said. Peter answered, "You are the Christ, the Son of the living God."
Jesus reply was, "Blessed are you, Simon Bar-Jonah! For flesh and blood has not revealed this to you, but my Father who is in heaven. And I tell you, you are Peter, and on this rock I will build my church, and the gates of hell shall not prevail against it."
I believe that this "rock" that Jesus spoke of refers to the fact the Peter had his own revelation of Who Jesus was on the inside of his heart. His faith didn't consist of head knowledge or what other people had told him.

Peter knew Jesus for himself through experiential relationship. It is this knowledge of God on the inside that makes us a true Christian. And it is this personal revelation and encounter with Jesus Christ that keeps us firm through everything we might go through, so that even all hell cannot prevail against us.
When believers are engaged in any kind of outreach ministry or missions work to those that live in the context of poverty, it is very easy to get so caught up in meeting the physical and material needs of the people that we neglect to nurture them spiritually. In this context we forget that the whole reason we are there is to build His church-- one which the gates of hell cannot prevail against. That is, we have met people's physical needs, but we have not led them into a personal encounter with the Need-Meeter so that they can know Him for themselves. People need food, education, jobs and healthcare. But most of all they need to know Jesus—the One who gives us all these things. It is knowing Him for themselves that will give people living in a culture of poverty the fortitude to stand in their trials and to access God directly for everything they need. In keeping this the main focus of our ministry, we are dealing with the source of all the problems they face, and not just treating the problems themselves. A good doctor does not just treat the symptoms but seeks to cure the disease.
I love what Madame Guyon shared about this subject in her book Experiencing God Through Prayer.

She wrote this in the 17th century, but I find its message very applicable to our present-day ministry to the poor, whether that be in the inner cities of America or the remote parts of Africa.
The decay of internal holiness is unquestionably the source of many sins that have appeared in the world. All these would be overthrown if inward devotion were reestablished… Oh, how inexpressibly great is the loss sustained by the man who neglects his inner spiritual man! What an account will those have to give who are entrusted with the care of souls, yet have not communicated this hidden treasure to their flock…The reason we have been largely unsuccessful in reforming mankind is that we have dealt with external matters rather than internal. If we deal first with the matters of the heart, the outward concerns will follow quite naturally…To teach a man to seek God in his heart, to think of Him, to return to Him whenever he has wandered, and to have a single focus on pleasing Him, is leading that person to the source of all grace. There he will find everything necessary for sanctification.
Melissa