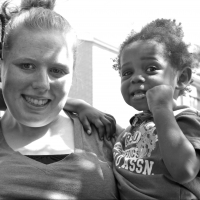 Internship Reflective
by Megan Juliot | August 7, 2013
Hello, my name is Megan Juliot. I am currently a senior at UW-Green Bay, double majoring in Human Development and Public Administration with an emphasis in Non-profit Management. This summer I had the opportunity to participate in an Internship with Adullam Outreach. My story of how I found Adullam is unique and shows me that I cannot get in the way of God's plan.
How I found out about Adullam
My youth group came to Adullam in August of 2012. I had just gotten home from a 10-week missions trip from South Carolina. My youth pastor asked me about being a youth leader for this trip but I did not think I was supposed to go. A couple of days later my youth pastor approached me again reiterating the fact that they needed me to go. After praying about it I reconsidered going. I was not totally looking forward to it but knew it was where I was supposed to go. Growing up as a Christian, I heard a lot about how God had a specific plan for me but I did not really know how to figure out what it was. Could these people physically hear His voice telling them what he wanted them to do? How was this determined? For me, Adullam played a huge role finding my calling. When I was there God broke me down and gave me a heart for the inner city. So often I take for granted being able to get a good education, having a place to sleep, and having a family that cares about me. People are hurting all over and I want to be able to share God's love with them. Another thing that happened when I first came to Adullam is I found out that one of my friends who went on the missions trip with me passed away. At first it was hard to come to terms with but being at Adullam really helped me to go to God in this time of sorrow. Little did I know that me being at Adullam was part of my bigger calling. After the missions trip I contacted Steve and Priscilla Grabosch about interning at Adullam. Even though figuring out how the internship would work wasn't easy God showed me over and over again how he would be my ultimate provider. To this day, the internship at Adullam confirmed my passion for inner city children. I do not know exactly where I will be in the future all I know is I want to be where God calls me.
My Role
My role as an intern at Adullam was multi-faceted and ever evolving. With time I gained greater insight and my role expanded. Initially, I worked with YouthWorks crews on projects in and around the building. YouthWorks is a national organization that provides youth groups with an opportunity to participate on mission trips. Youth groups request to go on different trips and then the staff at each location takes care of the logistics of the students' week. I was responsible to delegate and monitor different projects for students that came to Adullam through YouthWorks. Some of these projects included construction, organizing, sorting, cleaning, and lifting. I was also involved in mentoring youth and helping them grow in their walk with the Lord. Additionally, I frequently assisted with communication flow between the staff members. Lastly, I ran Katie's Closet during the weekly neighborhood cookouts. Katie's Closet is like a thrift store but everything is free. People from the neighborhood are able to come to Adullam and get furniture, clothes, household items, toys, and books for free. Community members have donated everything that is in Katie's Closet.
Some things I learned
Living in the inner city at first caused some fear inside of me. I lived in a community where shootings were a daily occurrence. I lived next to a family that had 6 kids their mom, grandma, and grandpa. Their cousin also lived with them and he was on house arrest for drugs and guns. On a regular basis I would see drug deals occur. I also think there might have been some human trafficking. I could have just let fear cripple me and stay inside my bubble. Instead I chose to reach out to the family next store. Don't get me wrong I was super nervous at first but I realized how strong the Holy Spirit is. The bible states that we are to do even greater things then Jesus did because we have the Holy Spirit. We just need to be willing to let God work by stepping out in faith.
Another thing that was reiterated to me was that I am chosen for a purpose. God created each one of us for a unique purpose that no one else can fill. There are things we can do on a daily to use our gifts to glorify God. Sometimes we get so wrap up in the future that we forget to live in the present and serve God with our choices on a daily basis. No matter where we are we are on a mission. I miss the people from Adullam so much and am excited to work with inner city ministries in the future. Right now I am currently nannying and even though it can be tough somedays, I realized that my mission is to love them. Even the girls I watch may act spoiled, whinny, and sassy they need love just as much as the inner city kids. They can use other things such as ipads, tv, etc to fill this void and distract them from what they really need.